Salmon and asparagus.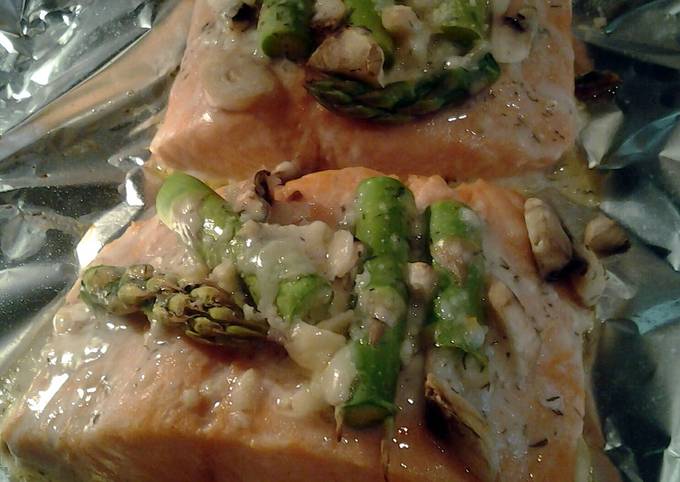 You can have Salmon and asparagus using 8 ingredients and 7 steps. Here is how you achieve that.
Ingredients of Salmon and asparagus
It's 4 of salmon fillets (6-8 oz).
Prepare 4 of mushrooms.
Prepare 4 of asparagus stalks.
Prepare 1 tbsp of lemon juice.
It's 1 tbsp of white wine.
Prepare 2 tsp of dill weed.
Prepare 1 tsp of garlic salt.
Prepare 1 tbsp of lowfat mayonaise.
Salmon and asparagus step by step
Combine lemon juice, mayo, white wine, and spices. Whisk to blend..
Cut and discard the woody ends of the asparagus spears. Slice the spears into ~2" pieces..
Slice the mushrooms..
Use a sheet of baking foil large enough to hold the salmon fillets. Spray or wipe the foil with olive oil..
Place the salmon on the foil and top with the mushrooms and asparagus. Drizzle the lemon juice mixture over the fillets..
Add a second sheet of foil over the salmon fillets and roll the edges of the two foil pieces together to seal..
Bake at 400°F for 20-25 minutes. Time may vary with the thickness of the fillets. Test with a fork. Flakey = done..