Rice pakora.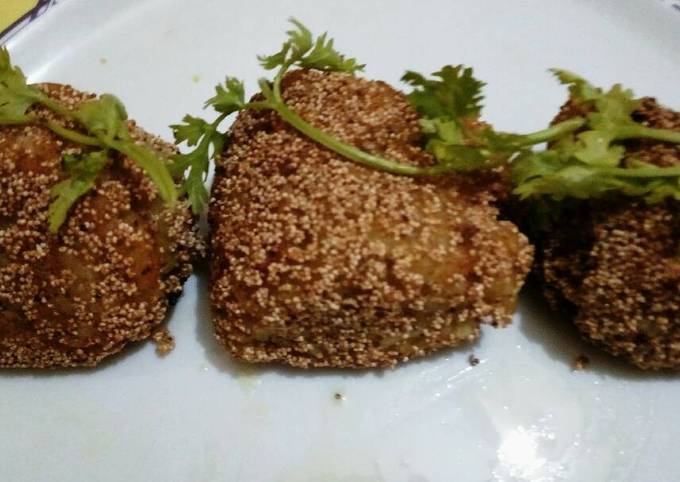 You can cook Rice pakora using 12 ingredients and 8 steps. Here is how you achieve that.
Ingredients of Rice pakora
You need 1 cup of Rice.
Prepare 100 gm of Chana Dal (sock it 4/5 hours).
You need 2 tsp of Turmeric powder.
It's 2 tsp of Cumin powder.
It's 1 tsp of Garam masala.
You need 2 tsp of Tomato.
You need 2 tsp of Onion.
Prepare Half of cup Potatoes smash (diabetic patient sweet potato).
It's of as per taste Salt.
It's of as per necessary Oil.
You need 2 tsp of Raisin.
You need 2 tsp of Poppy seeds.
Rice pakora instructions
Smash the rice until the smooth and add potatoes also..
Add salt litbit,garam masala powder, tomato pieces green chilli, onion pieces,mix well keep in a side..
Now chana Dal boil it with salt and turmeric powder..
Take a pan add oil put the Dal Cummin powder,tomato pieces,salt, green chilli,and cooked it well.
Take the rice dough,make semi circle and put the Dal in the middle and cover it and shape it as you like..
Now put in the poppy seeds.
Take a pan and oil and fry it well.
Now it's time for serving thank you..